Description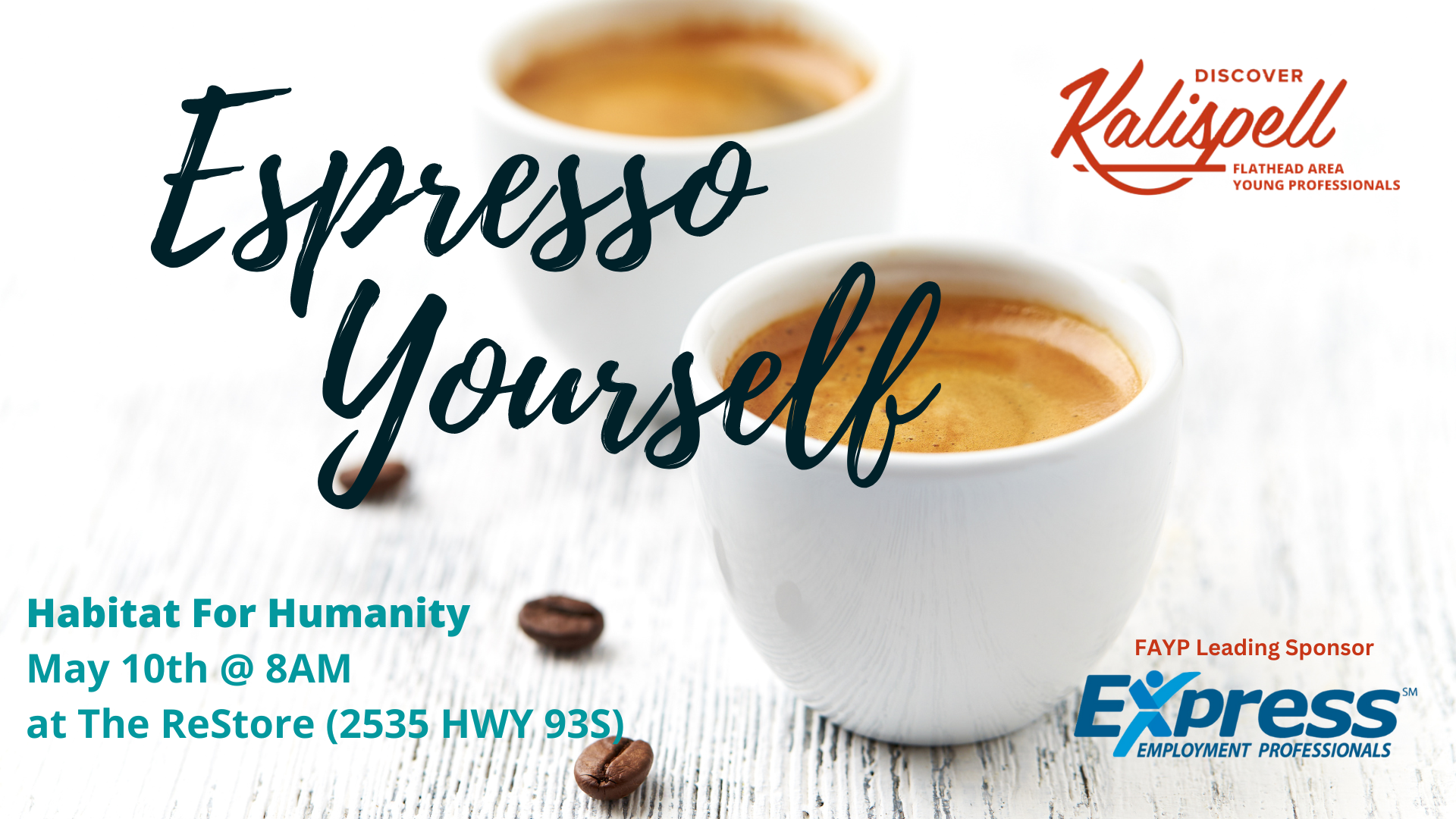 Flathead Area Young Professionals' May Espresso Yourself features Habitat For Humanity & The ReStore.
Join us at The ReStore on May 10th at 8AM to hear from this incredible organization. Learn about what they are doing and how YOU can get involved to make a difference right here in the Flathead Valley.
About Habitat For Humanity:
From humble beginnings in 1989, the vision of a few volunteers, Habitat for Humanity of Flathead Valley was established as a new Affiliate of Habitat for Humanity International. Since then, it has grown to be one of the largest Montana Habitat Affiliates with 62 completed homes to date. These homes represent 69 families, 96 adults, and 143 children.
In the spring of 2001, Habitat for Humanity of Flathead Valley opened the Kalispell ReStore. Patterned from the successes of similar operations of other affiliates, it became a significant financial bridge to support the costs of construction of homes for partner families.
In the early years, the organization celebrated the construction of one home per year. This was a major accomplishment given the limited resources and many challenges faced. In most cases, single lot sites were used to construct a sound yet affordable 3- or 4-bedroom house that became a home when the family walked through the door. Over the years, donated land and funding has allowed Habitat of Flathead Valley to continue to purchase lots and build in Whitefish, Columbia Falls, Lakeside, Somers, and Kalispell. The Affiliate is building 2 – 4 homes per year. Currently, we are constructing 5 homes in Lakeside.
The organizations have and continues to transition to accommodate the growth of Flathead county and the need for affordable, healthy workforce housing. In the years ahead, we are committed, with the help and support of our community, YOU, to do more than ever before!
Flathead Area Young Professionals is open to all young professionals ages 21-39 and is FREE to Discover Kalispell Chamber members & their employees. Not a chamber member? No worries- you are welcome to attend FAYP events up to two times to check it out, then you join FAYP individually OR join as a Discover Kalispell Chamber member. For more information, please contact Pilar at 406-758-5054.